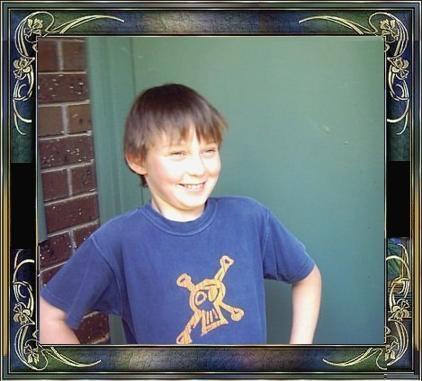 My Grandson Eric - now aged 10.
Seems only yesterday he was a baby.
Astrid, Cynthia and Eric - photo's in 2008
Boy they grow up fast, don't they ?
*******
UPDATE - Eric will be turning 16 on January 13th 2012.
He will get his Learners Permit for driving a car at that time.
Much excitement about that ... he has a car to drive that his
Dad ( my son Craig ) bought for him. Going to a different school
now, he is handling his studies much better - which is great.
Astrid is 14 years old - 15 next November. Doing extremely well at school. Cynthia is 13 in April. She excels at dance and theatre, and does well at school also. They are wonderful grand-children and I love them dearly.

ABOUT ME
My school days were not spectacular - although I always did very well in English. I guess that's why I love to write - poetry, short stories, and I would very much like to write a novel. Art is another interest - and I am presently doing computer graphics and photography as art forms. I have done many oil paintings in the past, mostly landscapes, but have not picked up a brush for some time. I have lived all my life in Victoria, Australia, in various suburbs around it's capital, Melbourne, and now live in a rural bush area of the Dandenong Ranges, east of that great city. I have travelled all over the eastern States of Australia, and to the United States some years back. All wonderful experiences.
I believe in the words "Live and Let Live". I also believe in a Higher Power for us all - however we perceive Him to be. I am a fairly private person when it comes to religion.

I don't have a job. Not any more. Didn't get sacked - nothing like that. I retired some years back now and enjoy my life on the computer - and believe me that's what it can become ... a real way of life.

But I don't let it interfere with my daily routines - ? NOT MUCH. The jobs I love most around the house are cooking, looking after my little four legged beauties, and gardening.

So - maybe I do have a job - and I love it.

Share some of my interests?
Please get in touch!