" BLACK CAVIAR "
An unusually coloured mare, she has won 16 races from ALL of her 16 starts !
Admittedly, she is a sprinter - of the highest calibre, and has yet to be proven over any further distance than the sprints she has won. Sprints are short - between 1000 and 1200 metres ( 5 to 6 furlongs).
Black Caviar is listed as a bay mare, but has unusual 'sprinklings' of black mottle in her coat. At least that's how she looks on the track via television. I cannot claim to have seen her in the flesh.
She is a remarkable speed machine. Below the first photograph of her here, are some of her physical statistics ... and they are impressive.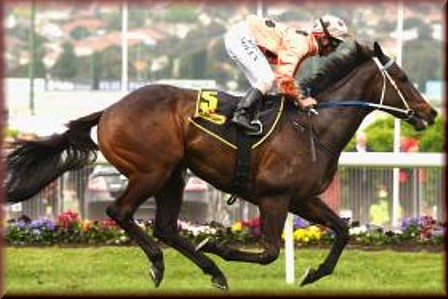 The above photograph shows her with 4-off-the-floor ... and she does look more like a deep chestnut in this photo. ( I 'borrowed' this from a website - so .... )
The largest percentage of big winners over the decades have been big horses, with big hearts and deep strong chests. Black Caviar is exceptional in her physical statistics.
1) She is tall - 16.2 hands high.
2) She weighs in at 560 Kg ... the average horse of that
size and breeding (thoroughbred), weighs around 470 Kg.
3) Her hindquarters are massive. That's where all the
powerful thrust comes from in a racehorse.
4) Her girth is also very big - larger than most.
5) The normal stride of a racehorse of any calibre is 9 metres.
Black Caviar's stride has been measured at 11 metres.
6) Her legs are thick and strong.
SHE IS A BEAUTY.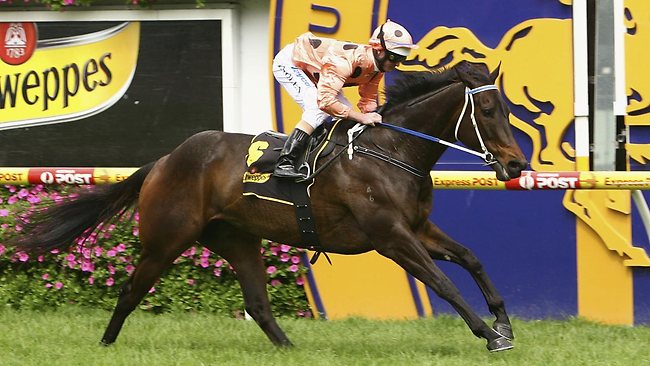 Australians absolutely adore this mare.
Wherever and whenever she races, she is followed by a drooling crowd
of punters and people who just attend the racetrack to see her.
Many followers bedeck themselves in her colours - pink with large black spots.
Flags are flown in her colours. She is a legend in her own time.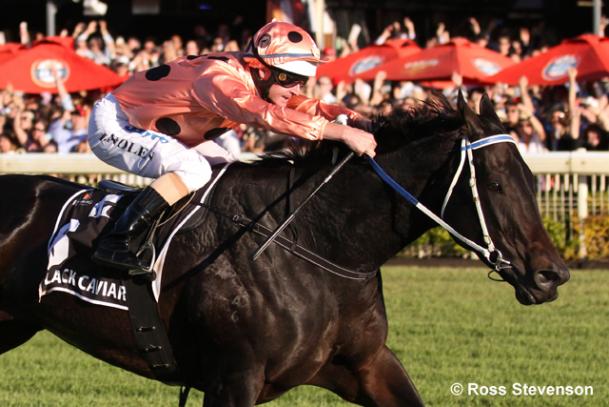 We have had many a famous racehorse born and bred
in this country. Black Caviar is one of our proudest.
She is by Bel Esprit (Aus) out of Helsinge (Aus) and was born and raised at the Swettenham Stud here in Victoria ( I am proud to say ) :) Always nice to have a champion from one's own home state.
This coming Autumn will see her raised in distance - to a middle distance race and her mettle will be tested. She races in an extraordinarily compact fashion - seeming to drift over the turf at an astonishing rate, and at times it seems she barely touches the ground. Such is her unique action.
:-:-:-:-:
How the owners of Black Caviar came to have her, is an interesting story - and rather long - so I won't go into it all.
A group of friends had long spoken of buying a horse together - and when they took the plunge they struck gold.
For more than a decade, five families, some from Sydney and others from Melbourne, had gathered at Echuca in Victoria for an annual water-skiing trip. The tradition of enjoying summer at the popular town on the Murray River has gained momentum each year as the families expanded.
In recent years, apart from the water sports, the five couples have talked long and hard about one day racing a horse as a group. This came to pass when they approached a leading trainer (Peter Moody) who 'found' a good horse for them .... Black Caviar.
Can you imagine how that group feels about their champion mare now.
Some dreams really DO come true.
:-:-:-:-:


" LIVING LEGENDS "
I had a birthday on 11th November, 2011. I won't go into just which birthday it was .... lol :) On the 4th day of celebrations, I was treated to a great surprise.
On that day [ 14th November ] it was my greatest pleasure to be taken to visit a property outside of Melbourne ( about 1 and 1/4 hours drive for us ), which is home to former racehorse champions. They live in quiet splendour as befits their achievements and station in life. They are so very well cared for.
Many Aussie readers would know the names of these champions.
Better Loosen Up
Doriemus
Rogan Josh
Paris Lane
Apache Cat
Might and Power
Silent Witness
and many others.
To overseas visitors to this website, these names may not mean a great deal .... yet again, they might if the Melbourne Cup, Caulfield Cup and other Group 1 races have been seen by international visitors.
It was an absolutely wonderful experience for me - to wander around the paddocks (fields) which now house these happy horses - two to a paddock. One in particular won my heart, and I dare to say, I just might have won a little of his.
He is "Apache Cat" - a sprinter of extraordinary talent, until he sustained a leg injury which ended his racing career. Prior to his retirement he won $4.6 million in stakes money - which was quite a remarkable achievement. He was not unbeaten like Black Caviar is at present, but he came as close to her achievements as any sprinter has, winning 5 Group 1 races in succession. He won a total of 11 Group 1 races.
Two of the races he won were back to back - the 2008 AND 2009 Doomben Ten Thousand, so named when 10 thousand AU pounds was the prizemoney - the richest sprint in Australia at the time. It now holds a purse of around $700,000 in prize money and is run over 1350 metres (or approx. 6.5 furlongs).
Apache Cat was sired by Lion Cavern (USA) out of Tennessee Blaze (Aus). Going back in his breeding, one can find some outstanding sires including Secretariat, Northern Dancer, Nijinsky & Nasrullah to name just a few.
He certainly has breeding.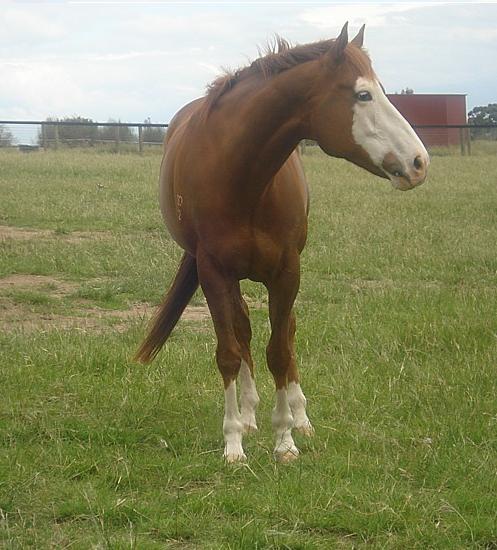 He has - as you can see - most unusual face markings. His face could almost called 'painted'. Other thoroughbreds have been known to have baldy faces, or very large blazes but I don't think Australia has ever had another thoroughbred racehorse that looks quite like the "Cat" !
:-:-:-:
I emailed the CEO and Senior Veterinarian there, about how much I enjoyed my visit to "Living Legends" and about my enjoyable 'chat' with Apache Cat after calling 'Cat' up to the gate. He kindly replied saying that I was indeed privileged to get Apache Cats' attention as he is not a 'people' horse, and prefers his own company at Living Legends. He does love the attention of a big crowd though, as was displayed when he was racing or being shown in special day parades.
It was truly a very special meeting for me and I hope for the "Cat". Beautiful creature that he is.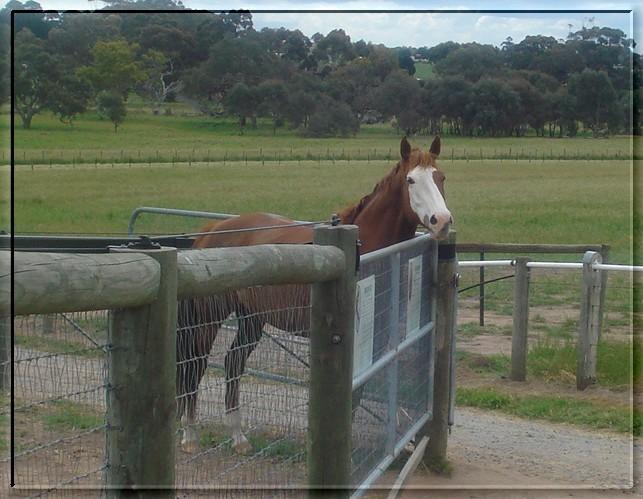 Waiting at the gate for me - after I had called him over.
What a thrill it was to have such a lovely chat with him.