"Indy"
..... is a Golden Retriever. One of the most lovable dogs one could ever wish to meet. He has been well trained by his owners Brad & Heather A, who live in the eastern suburbs of Melbourne, Victoria.
Indy is a frequent visitor to our home - and is always most welcome.
He is only now just in his 3rd year. A wonderful companion dog, he is very obedient and well mannered.
But - he wasn't always that way. Which is understandable. When just growing out of puppy-hood - he had much to learn.
Below are 3 photographs I was lucky enough to capture at the time of the (now well known) 'event' which took place in our lounge / dining room.
*** It was priceless ***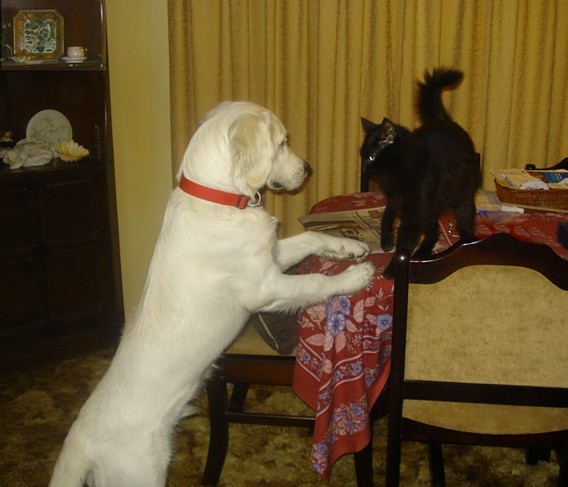 "And just what do YOU fink you are doin' up there Mr. Felix ?"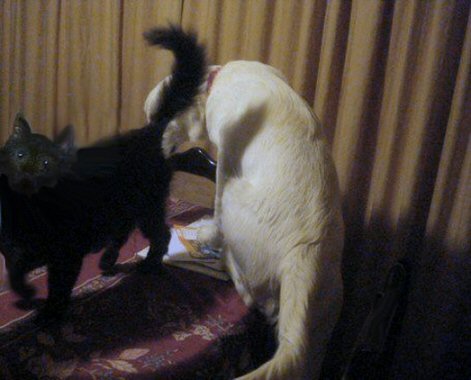 " Ok - if YOU can do it, so can I.
I just gotta figure out how ?
Now let's see - four feet on a chair and then
two feet up and .... dis isn't easy."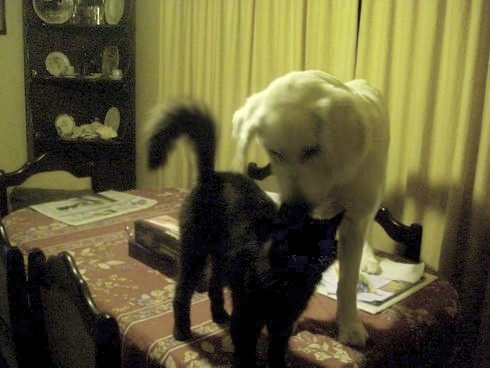 " I'm up ... but there's nuffin here Mr. Felix ? I can't find any tucker or toys and it's VERY high off the floor" ... "not sure I shoulda tried this trick "
>°~°<
"Umm - would someone tell me pleeze - how do I get down offa this thing ?"
☺

Footnote from the photographer !!
The first photograph has not been touched in any way, except to be cropped. The 2nd and 3rd photographs had to have a few little
enhancements and additions here and there, but are essentially the original photographs.
The seemingly different colourings / hues are due to the fact that I was trying to use different lighting that was available - while allowing this little performance to continue ! I took quite a few more snaps at the time, also trying a couple of different camera settings, which was a rush job for obvious reasons. These were the best of the lot.
All photographs have also been reduced in size from the originals.

A couple of YouTube video treats
for your enjoyment.
~ KUROSHIO SEA ~
Well over 1 million viewers and over 3000 comments. Unfortunately, (although you won't see them here) there was a grand argument started up between the extreme religious in community and the not-so-religious. I can't personally see why that could happen or why it should happen. (Some people leave some ridiculous comments on these videos and should be ashamed of themselves !).
It is simply - a beautiful experience, and one I found extremely relaxing. Thanks to the original photographer Jon Rawlinson - to be found at
http://jonrawlinson.com
.
One of the most beautiful videos I have
ever come across. Delightful, joyous and
just maybe a lesson to us humans ?
If two such different creatures can be so protective
and caring of one another - why can't we find this
in our human world, more than we do now ?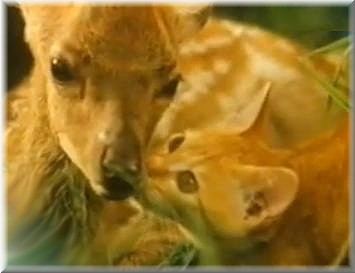 If the video doesn't work, or
a message shows that the embedding of code
has been removed,
click on the above photo to go to this feature
on the YouTube site.
Here is a YouTube ... of a remarkable
little Jack Russell terrier - doing his housework !!
What this little chap can do is quite astonishing.
You won't be sorry if you click on the link.
Unfortunately, I was unable to find a
code to embed this directly onto my site,
so you will have
to watch it by going to YouTube on the
above link.
.